As you know, all four TV works of Arwin Allen in the 1960s are lacking well-suited final episodes. The four TV dramas were, Voyage to the Bottom of the Sea, Lost in Space, Time Tunnel, and Land of the Giants.
I, with the big help of ChatGPT, tried to generate "real" final episodes for these four dramas. The ones for Voyage to the Bottom of the Sea and Lost in Space were not successful, but the two others seem to be excellent stories compared to the real final episodes of two. Let me introduce at first the real final episode for Time Tunnel: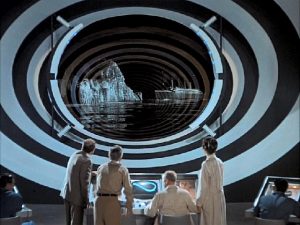 Title: Time Tunnel: Journey Back Home
Synopsis:
In the final episode of "Time Tunnel," Tony and Doug find themselves once again transported to the deck of the Titanic, with the cycle of repeating past events seemingly destined to continue indefinitely. However, in this new narrative, we explore the story of their safe return to 1968.
Determined to break free from the time loop, Tony and Doug defy the flow of time and make a resolute decision to alter their fate. Standing on the deck of the Titanic, they confront a pivotal moment with newfound determination.
Armed with willpower and courage, they exercise their free will by making different choices onboard the Titanic. They anticipate the events that unfold and take proactive measures to change the course of history. Collaborating with the passengers and crew, they work tirelessly to prevent disaster and rewrite the Titanic's ill-fated destiny.
Tony and Doug explore the ship, preemptively solving problems and preventing crises. Their knowledge and technical expertise are put to use, rallying the passengers to action and averting panic. Their presence and actions become the key to altering the future of the Titanic.
Ultimately, through the combined efforts of Tony, Doug, and those they inspire, the Titanic completes its voyage without tragedy. The ship avoids the iceberg, and both passengers and crew are saved. Meanwhile, Tony and Doug successfully navigate the Time Tunnel, returning safely to the year 1968.
In the closing moments of the story, Tony and Doug find themselves back in the present, ready to embark on new adventures. Equipped with the wisdom gained from their past experiences, they carry hope and courage within their hearts as they set off on another journey through time and space.
"Time Tunnel: Journey Back Home" showcases Tony and Doug's triumphant escape from the repetitive loop of the past, allowing them to return safely to 1968. Their determination and actions shape their own destiny, offering viewers a sense of anticipation for new encounters and adventures in the future.