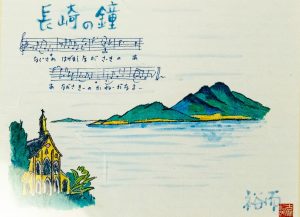 The Bell in Nagasaki was the theme song of the same name movie released in 1950. The Bell mentioned in this song was that of the Urakami Cathedral in Nagasaki city, which located just at the epicenter of the atomic-bomb's explosion on August 9, 1945. The bell (Angelus bell) was miraculously digged up from the debris and ashes of the Cathedral without serious damage on the Christmas Eve of 1945.
The movie desribed the life of Dr. Takashi Nagai. He was a Christian (Catholic) and worked as a radiologist during the World War II and suffered from leukemia due to the poor shielding of X-ray at that time. By the atomic-bomb's attack, he lost his wife and he also was seriously injured in his carotid artery but could fortunately survive. After the war, he contributed to the cure of many patients who suffered from the atomic-bomb diseases until he died in 1951. The Bell in Nagasaki was originally the title of his essay.
This song is extremely impressive and contains deep sense of prayer for peace. The lyrics were written by Hachiro Sato, who lost his younger brother also by the atomic-bomb dropped down on Hiroshima. The music was composed by Yuji Koseki. He was one of the most famous composers in Showa period, and he composed the march for the opening ceremony of the first Tokyo Olympic games in 1964. He also composed many war songs during the war time and composed this song in 1950 with deep regret and prayer as a kind of requiem for the victims of the war. In the last two lines of each section, the melody turns from minor to major and it leaves hope for those who listened to this music.
You can listen to the music here. (sung by Ichiro Fujiyama, the original singer)
I translated the lyrics into English for readers outside Japan:
こよなく晴れた青空を
悲しと思うせつなさよ
うねりの波の人の世に
はかなく生きる野の花よ
なぐさめはげまし長崎の
ああ長崎の鐘が鳴る
Even while looking to the brightest sky,
I painfully feel the deepest sorrow.
Within the ever undulating human world,
I am just an ephemeral wildflower.
Soothingly, cheeringly, in Nagasaki,
the Bell in Nagasaki resonantly rings.
召されて妻は天国へ
別れてひとり旅立ちぬ
かたみに残るロザリオの
鎖に白きわが涙
なぐさめはげまし長崎の
ああ長崎の鐘が鳴る
Summoned by God, my wife has returned to heaven,
leaving me alone in this world.
When I look at the rosary left as her memento,
I only find the traits of my tears.
Soothingly, cheeringly, in Nagasaki,
the Bell in Nagasaki resonantly rings.
こころの罪をうちあけて
更けゆく夜の月すみぬ
貧しき家の柱にも
気高く白きマリア様
なぐさめはげまし長崎の
ああ長崎の鐘が鳴る
While I confess sins in my heart,
the moon shines brightly in the deepening night.
Even on a pillar in a poor man's house,
there hangs a statue of the Holy Virgin Mary.
Soothingly, cheeringly, in Nagasaki,
the Bell in Nagasaki resonantly rings.
(notes)
(1) The first two lines:"Even while looking to the brightest sky, I painfully feel the deepest sorrow." are if literally translated, "It is usually delightful for most people to see clear and blue sky, but I cannot help feeling sad even if I do so. It is a pity for me to feel so."
(2) Regarding the last line of each section: "the Bell in Nagasaki resonantly rings", there is no word corresponding to "resonantly" in the original Japanese lyrics. But I added it so that the line can be easily sung in English. ("the Bell in Nagasaki rings" is too short for the melody.)